Here you will find out:
what to do if thumbnails are not showing in Windows 10
when DiskInternals can help you
Are you ready? Let's read!
What are Windows thumbnails?
Windows 10 by default creates thumbnails of document content instead of using generic document icons. Thumbnails are small images that are stored in a special database file called the thumbnail cache. This prevents Windows from wasting resources on thumbnail images every time you open the folder.
Sometimes you may see distorted or incorrect sketches. This suggests that the thumbnails stored in the cache for those specific files are corrupted or missing. This situation may be due to Windows system errors or hardware.
In order not to lose your data, the most correct and immediate action for you is to delete the thumbnail cache. Next, you can prevent the creation of thumbnails by default, or, conversely, recreate faulty sketches from scratch the next time you restart your computer.
If suddenly, as a result of the problem "Windows 10 image thumbnails not showing", files are missing or damaged, you can also find a solution to the problem in this article.
First, open the Start menu and type "Disk Cleanup" in the search bar, and select the Disk Cleanup application
Find here the Files to Delete list, which will contain the various types of saved data that Windows can safely delete to clean up space.
You can check the boxes next to all items, or if you only want to delete thumbnails, then uncheck the boxes for other items (for example, Downloaded Files and Temporary Internet Files, etc.).
Now click "OK" to remove all of your selected items.
Then a warning message will appear: "Are you sure you want to permanently delete these files?" - click "Yes".
The process of deleting thumbnail cache files will take you about a minute. Afterward, restart your computer.
Now is the time to check your sketches. To do this, open Explorer or look at the sketches on the desktop. If the thumbnails are still damaged, the problem is more likely in the file itself. If so, open the file in the associated program and make sure it matches the faulty sketch created by Windows.
Turn them off
If your Windows 10 thumbnails never work as expected, or you don't need them at all, you can turn them off completely effortlessly.
So, open the Start menu and type "File Explorer Options" in the search bar. You can also right-click on start, select conductor. In the new explorer window, click on the View tab and select Options.
Now that you are in the Explorer Options window, click the View tab and click on Advanced Options. Here, check the box next to "Always show icons, not thumbnails" and click "OK".
This action will allow Windows to display only standard document icons instead of thumbnails and thus eliminates the "Windows 10 thumbnails not showing" problem.
Protect your data!
Now let's move on to the question of what to do if your files were still damaged as a result of incorrect sketches. As promised, we offer you the easiest and most effective method! This is DiskInternals Partition Recovery, which will professionally recover data of any format, even damaged data, up to 1 PB in size. You can also create a disk image with all the data on your computer and save it to an external drive; this way, you will never lose your files! The application scans deeply on each of the disk partitions individually, without missing a single file, so you can return images, music, documents, images, mail, etc.
DiskInternals Partition Recovery is a proven application that hasn't let anyone down yet! Moreover, you can always rely on an experienced Recovery Wizard and not even think about anything. Immediately after scanning, view all the results for free and safely download them to a computer or other medium.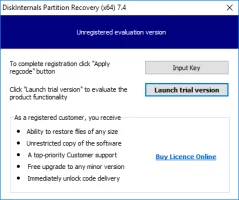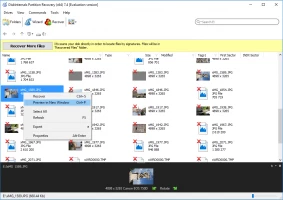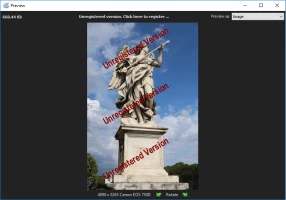 The data export function is available only in the licensed version of the program. However, if you decide to use a disk image, it will be ideal, as it can be done completely free of charge in the trial version of the program.
Therefore, do not wait, do not delay, but feel free to use DiskInternals Partition Recovery!