Recovering Data from Dead or Crashed Hard Drive
Here you will find out:
signs of failed or crashed hard drive
is it possible to restore data from crashed hard drive
how DiskInternals Partition Recovery can help you
Are you ready? Let's read!
Indications of Failed or Crashed Hard Drive
Knowing the warning factors can prevent your disk from turning into a dead hard drive. These include:
1. Drive shows as "Not Initialized" in Windows Disk Management;
2. Drive not spinning (no power);
4. An abnormal ticking noise while the drive is reading data;
5. A loud clicking or grinding noise.
In these cases, you will need a separate recovery hard drive and a checker to ensure your disk hasn't become a dead hard drive. To recover reformatted drives in the shortest amount of time, install DiskInternals software.
1. Not Initialized in Windows Disk Management
In Windows > Disk Management, the physical drives recognized by the computer are listed and the space allocated on them. A "not initialized" error is a signal of a fundamental communication error. Usually, an attempt to initialize a drive with a hardware failure will result in a low-level "I/O" (Input / Output) error. The built-in methods for hard disk data recovery will not help. But you don't know yet if you are holding a dead hard drive or it is possible to recover the data on it.
2. Drive Not Spinning (no power)
If a powered drive is not spinning (i.e., it is silent), it can be a sign of a problem with the hard drive's printed circuit board (PCB). The PCB holds some electronics responsible for drive control and communication with the computer. But only an experienced hard drive data recovery professional should perform repairs on the PCB. The PCB should be replaced with an identical make and model and hold firmware that is identical to the original board. You cannot perform hard disk data recovery right on the place in this case.
3. Hot Drive
A traditional (non-solid state) drive contains disks called 'platters'. There is a coat made from a magnetic substance and it spins at a high speed under a mechanical arm. This arm moves backwards and forwards over the surface of each platter. At the end of this metallic arm is a small copper wire. The computer sends a pulse through it and changes the state of the magnetic surface of a platter as it passes. In this way, the files that you store on your computer are encoded into the magnetic substance. The tolerances within a hard drive are finely calibrated. As with any mechanical moving parts, the friction in movement creates heat. A physical problem (or pending physical problem) may, therefore, present as an abnormally hot drive.
4. Abnormal Ticking Noise
In some instances, a failing hard drive can present with an abnormal ticking noise while the disk is reading data. This can be a sign that the disk has bad sectors (i.e., the magnetic storage on that part of the drive is degraded). The noise is generated by the actuator arm returning to the same spot on the disk in multiple read attempts.
5. Loud Ticking or Grinding Noise
A more serious mechanical error is an abnormally loud clicking or grinding noise. This is a serious issue, as it is usually an indicator of significant mechanical failure. Continued use puts the platters containing the data at risk of permanent and irreversible damage. The drive should be powered down immediately.
Can Hard Disk Data Be Restored?
Recovering a hard drive is possible with the data remanence feature, which means that some data continues to exist on the hard disk drive even after it has been deleted. To recover disk data, use the hard drive Partition Recovery™ software made by DiskInternals.
With a powerful tool to recover disk drive data, it would be simple to get deleted data back from your drive by yourself. In most cases, crashed hard drive recovery software can recover disk drive data after data deletion or other reasons.
Recovering Data from a Hard Drive
DiskInternals Partition Recovery™ is an advanced software tool intended for all users who need to perform disk drive recovery. To perform disk drive recovery, just go through a simple guide.
DiskInternals Partition Recovery™ hard drive recovery software is designed as a step-by-step wizard to perform data recovery and requires no special skills to understand how the process of crashed hard drive recovery works.
DiskInternals Partition Recovery™ foresees a variety of cases when it may render its authoritative assistance in data recovery. It is just what you need when you need to recover information from a damaged hard drive. These problems are surmountable because the program has a built-in triad of wizards that will try to recover data from a hard drive or partitions. It has a Disk Recovery Wizard, a RAID Recovery Wizard, and a Save Wizard. The whole process of recovery disk partition is automatic and is shown in a visually clear way.
Partition Recovery Guide
1. Launch the executable file you downloaded. When an installation is done, you can recover data from the disk or partition. The software is easy to use and does not require any additional skills to recover data from the disk. The process of recovery from your crashed hard drive will be as comfortable as possible.
2. Next, go to the welcome page of the Recovery Wizard. Here you can learn about the ways to recover data from your hard drive and proceed to hard drive recovery by clicking the Next button.
3. Select the crashed hard drive to scan and click the Next button.
4. Wait until the Wizard scans the disk and finds lost files. It can take some time, depending on the size of the crashed hard drive. At the end, you will get the possibility to preview the files that could be restored during the hard drive recovery from your crashed hard drive.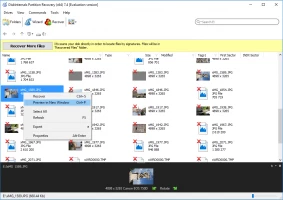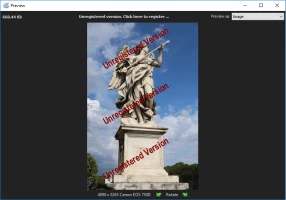 5. Purchase the license of the program and recover data from the crashed hard drive.
Related articles
Please rate this article.