Even Windows 10, 11 may crash and not work properly, the system may not boot, freeze, run slowly, or a blue or black screen appears. Of course, decisive action must be taken promptly to resolve issues with Windows 10 to get your PC back to its normal state. Microsoft has built several Windows 10, 11 recovery tools into the system. This post will detail the methods on how to recover Windows 10 or 11 using recovery programs. Also included here is a detailed guide to recover lost and deleted files from Windows 10 or 11.
Let's Do it! Let's repair Windows 10, 11
Protect Your Data
Restoring a damaged operating system threatens the loss of your data (music, photos, videos, documents, etc.) - you should be prepared for such an outcome. In addition, if you care about the protection of your data, you should have a decent application with you and DiskInternals suggests using one of its best products for this purpose - Partition Recovery.
This professional application scans any of your disks, while extracting information from all sections of the disk, and then the program gives you the opportunity to view the found information for free before restoring.
Even the most inexperienced PC / laptop users can figure out the program, and the excellent Recovery Wizard will make everything available for exporting data. The export function requires purchasing a license from the program's website, which can be done in minutes for a modest fee.
Here is a quick guide to recovering data of any format using DiskInternals Partition Recovery:
Install DiskInternals Partition Recovery.
Select basic options for searching data (disk, file type) on the damaged hard disk using the recovery wizard.
Select the recovery mode (Full recovery, Fast recovery, Reading mode) and click Next.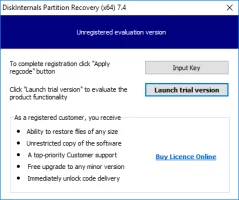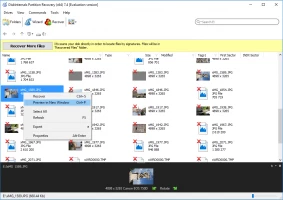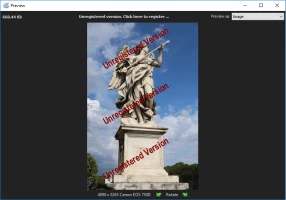 Next, the scan will start, don't worry, it will take some time.
Preview and restore at no cost.
If you want to save the recovered data, just buy a license on the website and enter the license key, then the program itself will ask you to choose a location to save the data.
1. Startup Repair
Startup Repair can be launched if Windows 10 does not load or does not start correctly.
First, enter the Windows Recovery Environment using one of the following methods:
Turn your Windows 10 or 11 computer on and off continuously until the computer boots into WinRE mode.

If you can boot the system, click the "Start" button, go to "Settings" and open "Update & Security". Then click on "Recovery" and then in the "Advanced Startup" section click on "Restart Now".

You can also enter the recovery environment using bootable media to recover Windows 10. 
As soon as you plug in the Windows bootable USB drive, start the computer and press the function key F8, F2 or other necessary keys to access the BIOS. 
When you enter WinRE, go to Troubleshoot, then click Advanced Options and select the Startup Repair utility. The automatic diagnostics of Windows 10 or 11 will start and the problem with starting the computer should be resolved.
If you receive the message 'Startup Repair cannot repair your computer', try another method to repair your system.
2. SFC / Scannow
Check your system files, they may be damaged, therefore Windows 10 or 11 does not load correctly.
Command Line Utility - SFC / Scannow will help you in this matter.
So, press the Windows key + R hotkeys and type cmd in the Run window. At a command prompt as administrator, enter this command line: sfc / scannow and press Enter.
When the scan of all protected system files is 100% complete, you can see if any errors were found.
Sometimes the SFC tool is unable to fix some corrupted system files, in which case try another powerful built-in tool - DISM. This utility contains many more command lines for Windows 10 or 11 image recovery and other errors.
You can also use Deployment Image Servicing to remove, install, configure, and update Windows components.
3. Windows Restore
In order to use it, you should go to the Windows 10 Advanced Startup Options menu. Next, select your username, enter your password and select the appropriate restore point from the menu. Accordingly, if you have no restore points, you cannot use this method.
4. Reset Computer 
Windows 10 and 11 provides a built-in reset feature that returns your computer to its original state (before you had any software, devices or data preloaded).
Click on "Start", open "Settings" and go to the "Update Security" section. In the "Restore" section, activate the "Reset this PC" function and select one of the preferred options for restarting your computer:
Keep my files,

Delete everything.
After completing the system reset, your problem should be resolved.
5. Reinstall the OS.
If all of the above methods did not help, you should reinstall the operating system. 
To do this, visit the Microsoft software page and download Windows 10, accept the license terms, and select Create another PC installation media. Click Next, select the ISO file and click Save.
Then Open the downloaded Windows ISO file, open Setup and click Next.
Now click Install and wait for your system to reboot.