Here you will find out:
methods of how to fix Runtime Broker issues
when DiskInternals can help you
Are you ready? Let's read!
What is a Runtime Broker?
The Runtime Broker is an official Microsoft process that is used to determine if Universal Apps obtained from the Windows Store advertise all of their permissions. Put simply, this process can be found in Windows 8 and Windows 10 and can help you determine, for example, the ability to access your location or microphone. Typically, runtimebroker.exe runs in the background, but you may notice an increase in its activity when you launch a universal application.
So, for example, when the Runtime Broker is inactive, then it maintains very little memory - up to 20-40 MB. When, however, you run the universal utility, you will see the memory usage grow to 500-700 MB. When running additional generic applications, the Runtime Broker should not use additional memory.
Why does it affect PC 'work' so much?
The foregoing Runtime Broker usually consumes 0% of your CPU in the background, and when the universal application starts, it grows to the use of 25-30%. In a short period of time, it stabilizes.
If you notice that this is not the case for you and Runtime Broker constantly consumes 30% of CPU, even when you do not have a universal application, it is worth dealing with this situation. So, for example, if your system was recently updated, you may have noticed that Windows likes to periodically show you prompts in the form of notifications. And this action for some unknown reason behaves like a universal application and activates the Runtime Broker process.
In this case, you should simply turn off the system prompts. To do this, in the "Settings" section, select "System" and open "Notifications and actions." Here, turn off the "Get tips, tricks, and suggestions when using Windows" option and save the changes.
Sometimes Runtime Brokers use more resources than they should when there are corrupted and malfunctioning applications. In this case, you need to find these problematic applications, and first of all, make sure that they are updated to the latest version. Otherwise, you will need to uninstall and then reinstall the application.
How to interact with it?
You cannot disable the Runtime Broker system process because it is necessary to protect your security and privacy when running Universal Apps. In general, runtimebroker.exe almost never bothers you when it works correctly. And when you think that the process slows down your system and does not work properly, you can always open the Task Manager, find and select runtime broker exe with the right mouse button. Then, just click on End Task, and after a few seconds, Runtime Broker will restart automatically. However, for a few seconds before restarting the process, Universal Apps will be unable to access trust settings or may not load at all.
This process can only be viral in theory, since in practice there have been no reports of viruses that hijack the Runtime Broker. This system process is an official Windows component and you can always check the location of the file that underlies Runtime Broker in the task manager. Right-click Runtime Broker and select the Open File Location option - you should see that the file is stored in the Windows \ System32 folder. Now you are sure that you are not dealing with a virus. Last but not least, you can, of course, run a system scan with your antivirus solution for even more peace of mind.
Use DiskInternals Partition Recovery to back up or restore a disk
This application can simultaneously work as a file explorer (open any inaccessible files in reader mode) and as a tool for recovering data of any type and size. Alternatively, you can create a disk image using DiskInternals Partition Recovery and own a copy of your system with personal data on another device for free.
The program has 3 full recovery wizards, depending on what file system you have. This application deeply scans each section separately; if the file system is damaged, it is converted to a readable format and returns inaccessible information. In addition, the free preview feature will allow you to be convinced of the unsurpassed quality of the application and great perspectives.
The Export Wizard will help you save the files in the correct format to the media of your choice. This unique opportunity will be available to you after purchasing a license for the DiskInternals Partition Recovery application. It is very easy to do this - right on the Internet, which is why this application is able to satisfy the needs of each client. So rest assured - this is the best solution and the best option for you to prevent data loss.
So, follow these steps and your lost partition or disk will be loaded very soon.
Step 1. Download and install DiskInternals Partition Recovery to recover the information you need.
Step 2. The Recovery Wizard will start automatically in a new dialog box.
Step 3. Select the file type you want to recover or search by file type a little later.
Step 4. Scan. Choose a scanning method: fast (takes significantly less time) or full (will provide good results).
Step 5. Preview and repair are free for all users of the application. All found videos, audio files, photos, documents, etc. will be displayed in a new window and marked with a red cross - select the desired file and click "Preview in a new window."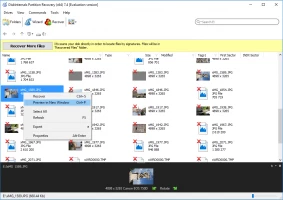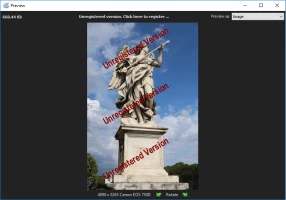 Step 6. Saving and exporting the recovered data requires purchasing a license online for a small fee.
Good luck!