In this article you will find out:
Are you ready? Let's read!
SFC and its parameters
SFC is a universal free tool for checking and fixing system files. Using this utility in Microsoft Windows XP, Windows Vista, Windows 7, Windows 8, Windows 8.1, and Windows 10 operating systems, you can scan and restore corrupted system files. All you need to run SFC is to be logged in as an administrator. In Windows Vista, 7, 8, and 8.1, sfc can scan individual files.
The following are the most common options for this utility:
sfc / scannow, used most often, can replace problem files from the DLL cache.
sfc / scanboot, scanning system files every time the computer boots.
sfc / scanonce, allows you to scan system files once.
sfc / cache size = h, where h is the size in MB of the Windows file protection cache.
sfc / revert, reset the scan to the default working state.
sfc / purgecache, scan system files and delete Windows file protection cache.
sfc / ?, displays help on the screen.
From where to start
You need to start by creating a disk image since anything can happen during the SFC scan (loss, deletion, damage to file). And a pre-created disk image will allow you to save all data on the disk and all configured computer settings. You can create a disk image using DiskInternals Partition Recovery, just download this application and use the disk imaging function for free.
SFC Command Syntax
The Basic syntax of SFC command windows 10 is as follows:
sfc options [= path to file]
You can choose the options yourself, depending on the intended purpose for scanning.
Note: all possible parameters are described in the paragraph "SFC and its parameters" above.
Let's go through the examples
Here are some examples for your reference:
sfc /scanfile=c:\windows\system32\itname.dll
In this case, the \ itname.dll file is scanned and automatically corrected if a problem is found.
sfc / scannow / offbootdir = c: \ / offwindir = c: \ windows
Check and restore protected Windows files (/ scannow) here, but this is done with a different Windows installation (/ offwindir = c: \ windows) on a different drive (/ offbootdir = c: \).
sfc / verifyonly
This command checks the system files, finds errors, and just informs you about it without any changes.
Dealing with troubles
It happens that SFC is not recognized; that is, the utility does not accept the commands you enter. In this case, you need to check if you have administrative rights.
If your data is unexpectedly deleted or damaged, you can still recover it using DiskInternals Partition Recovery
Peace of mind without worrying about data loss; the result is proven by 15 years of successful data recovery. It uses a deep disk scanning system and can recover a large amount of information up to 1 PB, whether it is music, documents, images, videos, etc. The application works even with damaged file systems, including HFS, NTFS, XFS, Ext2 / 3 / 4, ReiserFS, FAT12, ReFS, Reiser4, etc. and converts them as needed. There is a free, fully-functional trial version of the application that you can download right now and view the results for free. After downloading, proceed to the process of recovering data from the damaged partition.
In the application, you will initially see a Wizard button; click here if the wizard does not load on its own.
Then click on the drive you are looking for and select the program mode (full, quick recovery, or reader mode).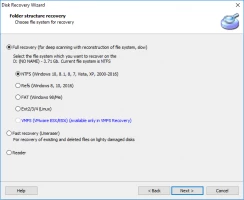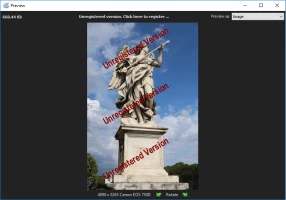 After scanning, select the file you need, press Ctrl + P and view it, as promised, for free. To save, buy a license and export the data to wherever you want (of course, it's better not to return to the original location).
After that, you can exit the program and enjoy unrivaled success. Remember: the faster you start to restore what you need, the more perfect the result will be. These are not empty words since rewriting can erase exactly the information you need.