Fix your computer lack of memory today!
Here you will find out:
"Your computer is low on memory" - what does that mean?
how DiskInternals can help you
Are you ready? Let's read!
What it means when you get the message: "Your computer is low on memory"
In any version of Windows, this error message means the same thing: you have exceeded the memory limit of the computer. For example, you are trying to open a program or save data to a computer, but this cannot be done, and the message your computer is running low on memory appears repeatedly because the virtual and random access memory is full.
It's a pity, but you won't be able to open the application or save data to the computer until you correct the situation. However, it will not be difficult to do so, with the help of this article.
Signs your computer is low on memory
Here are the most common programs, games, and applications that contribute to the error "Your computer is low on memory":
This is due to the fact that they all require a certain amount of free space for normal operation. But in fact, any other application can also be the cause of the problem.
Method 1. Use the Task Manager
You can check which application consumes a lot of memory and then deal with it. This can be done by right-clicking on Start., then select Task Manager. In a new window, you will see all the active programs at the moment. Scroll with the mouse and look for those applications that occupy the most space (this can be seen in the Process column).
Then click on the appropriate program with the right mouse button and select Finish Action. Still low on memory? Try the next method.
Method 2. Remove malware
A good antivirus program can help. Run a scan and repair your computer; perhaps it is being consumed by viruses.
To complete the process, restart the computer after that.
Method 3. Add Virtual Memory
This recommendation is often quite useful for users to help get rid of the message "Your computer is low on memory".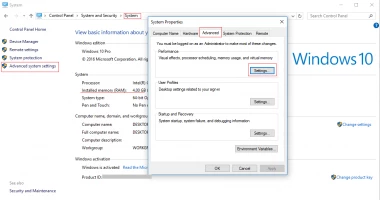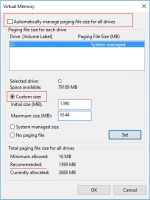 First, right-click on Start, as in the previous method, and select System. Then in the new window on the right, click on the last line: "Advanced system settings".
Then in the new window, select the Advanced tab. Select the first Settings button, then click Change. You need to check the box for the Custom size and directly increase it. Then click on the OK button. Now try to run the application.
If you don't know how to increase virtual memory correctly - read this paragraph Reason 2. A lack of RAM.
Method 4. Increase RAM
Is it possible to add memory to your laptop/PC? If so, which generation of DDR is best to use? You will need to check the website of the manufacturer of your computer.
How this works can be illustrated by an example: your RAM is 4 GB, but by adding DDR4 (or other versions), you can increase it up to 8 or 16 GB.
Note: If you are not a professional, it's best not to do this yourself, even if it seems very simple to you.
Method 5. Try chkdsk tool
This tool will help you when the computer has a "Your computer is low on memory" error as a result of bad sectors. But, remember, this method will erase your recoverable data; it will certainly harm the data that was deleted and needs to be restored. So back it up.
Another good tip is to create a disk image(the DiskInternals Uneraser application has this feature and it is completely free to use right now). After all, if one bad sector appears, then there will soon be several of them, and you will not have time to look back as your hard drive crashes. With a disk image, you are always ahead of this kind of incident.
Now, about chkdsk.
Press Win + X and enter "command prompt (Run as administrator)". In the Command Prompt window (with something like "C: \ Windows \ system32> _."), enter the drive letter
(there is a space between "d:" and "/"). Now press Enter. After rebooting the system, you should no longer see the error.
Related articles
Please rate this article.