How to recover deleted photos from an SD card on an Android phone
How to recover deleted photos from SD card on Android phone? Easy! All you need to do - connect the SD card with the computer.
Don't know, what to do next? In this article, you will find out:
possibilities of the recovery deleted files from Android SD card
what should you avoid in the recovery process
how DiskInternals Uneraser can help you
Are you ready? Let's read!
Possibility of recovery of deleted photos from an SD card
Recovery of deleted photos from an SD card, fortunately, is possible. So what actually happens when you delete a photo? In fact, only the filename is deleted and the occupied space is marked as free for writing. In other words, a deleted photo waits until it is overwritten by new data and then it will be permanently deleted.
What you shouldn't do:
Based on the above, first of all, you need to prevent overwriting of data.
If you do not do this, all data return operations will be in vain. Therefore, stop using the SD card on which your photos were. Any ill-conceived action with an SD card can lead to data rewriting.
It is also not necessary to format the SD card before the photos are restored. But if you have already formatted an SD card, do not write anything else to this disk and do not take any action. In this case, there is a chance that data rewriting did not happen and SD card data recovery for Android is possible.
All you need to do to recover deleted photos from an SD card is to use good software for such purposes.
Use DiskInternals Uneraser for SD card data recovery on Android
Now let's talk about the best software for SD card data recovery for Android.
The best software of its kind is DiskInternals Uneraser. The program has a nice interface with a built-in Recovery Wizard, which is accessible even to technically non-advanced users. The program is quite simple and clear, even for a beginner.
DiskInternals Uneraser allows you to recover files in Windows 10, 8, 7 and XP, and even in older versions of Windows. Use the free trial version of the application and as soon as you make sure that your data can be restored to its correct form, simply purchase a license for this product and keep the documents in a safe place.
Read this detailed SD card data recovery guide for Android using DiskInternals Uneraser:
1. Connect the SD card to your computer.
2. Download and run DiskInternals Uneraser. Left-click the wizard icon. Now click Next.
3. You will see all the storage devices that are on your computer. Select your SD card and click Next.
4. Then the wizard prompts you to select the type of file you want to restore. Do this and start scanning the disk.
5. Scan a disk. Select a mode: fast or deep (recommended). Deep scans will find much older photos but will take longer. Wait for the process to complete.
6. Preview (free feature). Right-click on the file and select Preview.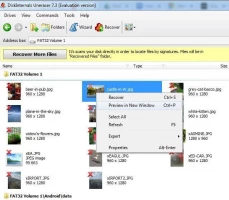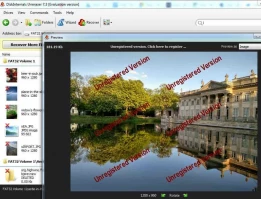 7. Preservation. To do this, buy a license and enter the license key. Then click on the Save button. It is best not to save the recovered data on the same SD card.
That's all; your favorite photos are with you again!
Related articles
Please rate this article.