Deleted or lost PNG image? Recover it today!
PNG image file as any other file type can be lost. At this article, you will find out:
what is a PNG file and why does that file type so special?
the best recovery advices
how DiskInternals Uneraser can help you
Are you ready? Let's read!
What is a PNG?
PNG is an image format similar to the GIF format. Unlike the latter, the PNG is a lossless photo compression format designed for the Internet. This property has allowed the PNG to establish itself and become very popular among users. In addition, even after editing images, PNG files quality do not degrade — a plus for people sharing images on social networks.
Why do PNG files become lost?
Unfortunately, PNG images can disappear from sight. And these are precious moments of your life that you wanted to keep for many years. How could you not be upset?
Here are the main causes of lost PNG images; knowing them may help you in the future to avoid such situations.
Accidental deletion of PNG files.
Formatting the disk on which PNG file was located. This can happen by accident or as a necessary measure if the data storage device is damaged.
Virus attack or file corruption by malware via online advertising.
Removing a memory card in an unsafe way, or removing it while transferring data.
Mechanical damage to the device with the PNG image file. Unfortunately, in this case, it is impossible to recover the lost PNG image by yourself; if you are lucky, the repair of the device will correct the situation.
As you can see, loss of PNG files is easy to identify and avoid; you just need to be more careful and attentive with your data.
The best advice for PNG recovery
No matter where your PNG image file is stored (hard disk, memory card, SD card, USB drive, external hard disk, etc.), stop using it as soon as the images are lost. Do not copy, save, or delete any information on the device. This will result in overwriting with new data and it will no longer be possible to retrieve the PNG file.
PNG recovery with DiskInternals Uneraser
Recover your lost PNG image using best software, DiskInternals Uneraser. You can use it even if you are recovering a deleted or lost PNG file for the first time.
Here are just some of the advantages over other free software to recover a lost PNG image:
1. The software allows you to recover files in Windows 10, 8, 7, etc.
2. It works with solid-state drives, hard disks, flash drives and memory cards (including SD cards, SDHC, SDXC, etc.).
3. It allows you to try the free trial version first before buying a license. Only after you make sure that your images are restored do you need to purchase a license for this product.
4. It will be able to recover lost PNG images or other file types after sudden or deliberate deletion, virus attack or other misfortune.
5. You can also use the preview function for free and make sure that the files will be recovered correctly.
How to recover PNG files with Uneraser
Below are detailed instructions for using DiskInternals Uneraser. Follow them and your lost PNG image will be back with you soon.
1. Download the trial version of the DiskInternals Uneraser software.
2. Then run the program and press the Next button as many times as necessary to install the software (do not install the software on the same partition or disk where your PNG or other files were lost!).
3. The recovery wizard will start automatically.
4. Next, you will see all the storage devices that are on your computer (hard disk, USB, SD card, etc.). Left-click the disk that contains the lost PNG image. Press Next.
5. Then select the type of file you want to recover, or do it after scanning.
6. Scan the disk. Wait a while for the process to be completed.
7. As a result, you will see the files that can be restored. They will be marked with a red cross in the upper left-hand corner.
8. Preview. Right-click on the file and select "Preview in a new window" or press the hot key Ctrl + P. Recovery will occur automatically.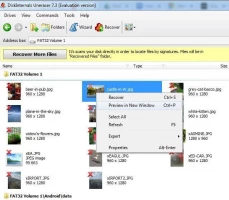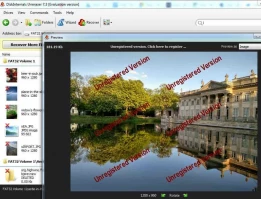 9. Saving. To save the found files, you just need to purchase a license and enter the license key in the appropriate window.
Do not save the recovered files on the same device where they were lost! This will overwrite the data.
Good luck!
Related articles
Please rate this article.