How to repair a damaged SD card without formatting
If your SD card is damaged, formatting should be the last choice. There are other choices that can help to deal with a damaged SD card and its files.
In this article, you will find out:
- how to check if an SD card isn't working well
- how to fix a corrupted SD card without formatting
- how to retrieve data from a damaged memory card
- tips on how to avoid data loss in the future
Are you ready to deal with these problems? Let's read!
Signs an SD card is damaged
Yes, your SD card is in trouble, if you have some of these signs:
If you cannot open photos, videos or other documents on your SD card. Or they are read incorrectly or in fragments.
If you connect the SD card to the card reader, but it is not readable or not recognized by your smartphone or computer. You may get the messages: "Memory card error" or "Damaged memory card".
If your operating system generates read errors such as: "SD card is not available. The file or directory is damaged and cannot be read." or "Error reading / writing to SD card."
If you cannot add, save, delete, or copy any files on the SD card, while you see the entire contents of the SD card and receive an error message: "write protected".
If the SD card needs to be formatted, and you get the message "The SD card is not formatted, do you want to format it now?"
If you have noticed any kind of mechanical damage on your SD card.
Only in the last case is there practically no chance to return your data.
But if this is a logistical error, then all is not lost. In these cases, fixing a corrupted SD card without formatting is worth a try. Moreover, there are many options for this.
Try another adapter or gadget
This is the first thing you should do.
Perhaps you think that this is nonsense, but it is definitely not!
Often, your computer, smartphone or other gadget is incompatible with the SD card.
And all that is required to recover a damaged SD card without formatting is to connect it to another card reader.
With luck, the card should be recognized and read by the computer.
But if this method did not help you, do not worry.
This is only one of the options to recover a damaged SD card without formatting.
Check SD card for errors
You can try to correct a logical error in the Properties menu of Windows.
This procedure does not require any kind of special technical skills. To do this, you need to connect the SD card to your computer, then go to My Computer and right-click on your SD card. Next open Properties -> Tools -> Check.
After a while, the scan will complete.
You need to remove the SD card in a safe way and restart the computer. That's it; re-connect your SD card and enjoy your data.
However, this method does not always help. Do not panic: this is not all that can be done with a damaged memory card.
Memory Card Damaged? Recover its Files
You still have a chance to fix a corrupted SD card without formatting. With such a problem, special software designed for these purposes will help you. DiskInternals Uneraser is the best solution! It has a convenient and simple built-in wizard that will get back your photos, videos, music and other documents, even if you are new to data recovery.
The software works with all versions of Windows.
Use the free trial version!
You can make sure your files will be recovered correctly and quickly. Purchase a license for this product only if you want to save the recovered data from a damaged SD card. You can recover your SD card without formatting with DiskInternals Uneraser in a few simple steps and without leaving home.
Another good feature is that you can preview the found photos, video files, music and other documents before you restore them.
And after data recovery, you can fix the damaged SD card file system using the command line.
So, how you recover data from a corrupted memory card without formatting?
Easy!
Here are step-by-step instructions for using the DiskInternals Uneraser software.
Guide: how to recover files from a corrupted SD card
1. Download and install DiskInternals Uneraser to recover your SD card without formatting.
2. The recovery wizard will automatically open; click Next.
3. You will see all the storage devices that are on your computer (hard disk, USB, SD card, etc.). Select your memory card. Press Next.
4. Then select the type of file you want to restore. You can skip this item.
5. Scan the disk. DiskInternals Uneraser offers two scan options: fast and full. The name of the first option speaks for itself and restores only recently deleted files. Deep scanning will allow you to find much older data. The process itself will take some time. All found files will be marked with a red cross in the upper left-hand corner.
6. Preview and restore. Select the files that you need, right-click on "Preview in a new window" or press the Ctrl + P hotkeys. The recovery process is automatic.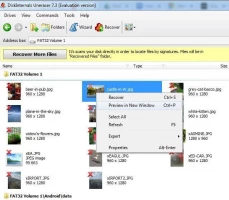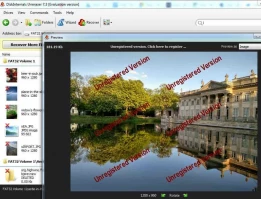 7. To save the recovered files, you just need to purchase a license and enter the license key.
That's all! How do you retrieve data from an SD card without formatting? As you can see, it is pretty simple!
Fix a corrupted SD card without formatting
After all these actions, it's time to use the command line to fix the SD card. Here's how it works:
Step 1.You need to insert the SD card in the slot in the computer.
Step 2.In the search bar, enter "cmd". Press Enter and you will see the result "cmd.exe".
Step 3.Click "cmd.exe" and a line similar to this will appear:
Step 4.Type chkdsk [the drive letter]: parameter f or parameter r. This how it looks like:
Pay attention! Letter d - is for an example, because the drive letter you choose yourself and there must be a space between "d:" and "/"
Then press Enter.
For reference:
- needs to correct errors on the hard disk.
- needs to correct the bad sectors on the hard disk.
As a result, the process of checking and correcting the file system of your SD card will begin. Then you should see the message "Windows made corrections to the file system" in the command window.
Congratulations, the SD card is fixed!
And besides, you saved all the data from it thanks to DiskInternals Uneraser.
What more can you want?
How to avoid this situation in the future
Here are some tips for using SD cards. If you follow them, you are unlikely to fall into a similar situation in the future.
Buy proven brands of SD cards. Then you will have more of a guarantee that the data will not disappear.
Practice safe removal. Never remove a memory card from your gadget in an unsafe way if you perform any actions. For example, delete, save, view, copy, etc.
Charge the battery. If your gadget is on low battery power, it is better not to take or view new pictures, videos or documents. Always try to be aware of the battery status of your device.
Extra-check. Check if the camera is on If the camera is turned on in your phone or camcorder, do not remove the memory card. Continue to make a video or do a photo shoot till the end and make sure your file is saved.
We hope this article was useful for you and will become a reference manual for how to behave if the SD card is damaged.
Good luck!
Frequently Asked Questions
Related articles
Please rate this article.